Nach Eindrücken aus meiner Hexenküche, gibt es heute ein paar Impressionen aus meinem Berufsleben, das mich gestern nach Brandenburg führte, in die Nähe von Wriezen auf ein ehemaliges Militärgelände der Nationalen Volksarmee (NVA) der DDR.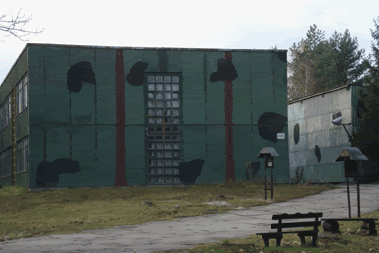 Nein, das ist nicht das, wonach es aussieht! Dieses Gebäude wurde nämlich seinerzeit gebaut, um dem Klassenfeind den Blick via Satellit auf den Eingang eines Bunkers zu verwehren.
Today, I do not offer you an eye candy but some impression out of my professional life.
Yesterday, I spent the day at a military complex used by the National Peoples Army of former East Germany.
This building is not what it looks like – it was only built to hide the entrance of a bunker from curious glimpses from a satllite of the western class enemy.
Rote Telefone gab es einige, aber an diesem Schreibtisch in 20m Tiefe haben die Verteidigungsminister der DDR gesessen und mit ihren russischen Amtskollegen telefoniert.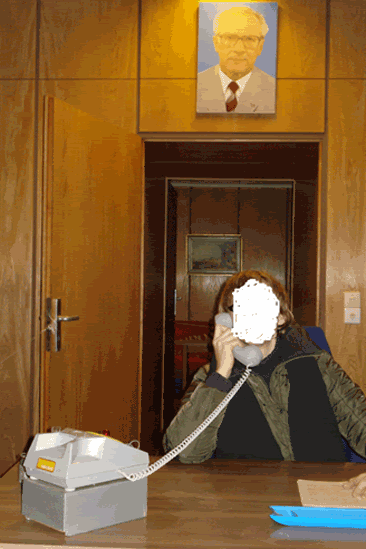 There had been various red phones, but this one here, in about 20 metres under the sea level, had been used by the Defense Ministers of the GDR, they had a direct connection with their russian counterparts.
Aber das Beste war dieses Stückchen Handarbeit...gesehen auf dem Couchtisch im Ruhezimmer des Verteidigungsministers, reizend oder? ;-)
Der weisse Fleck links ist natürlich kein Sonnenlicht!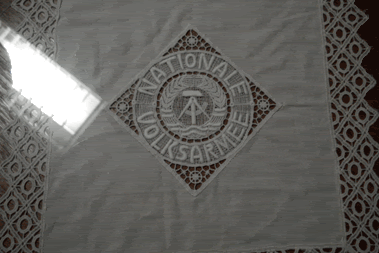 There had been increredible things in the complex, but I fancied this the most: a handcrafted lace and the writing in the middle, also stitched by hand, means 'National Peoples Army', cute, isn't it? ;-)